Doctors & Staff
Dr. Susan Tomasino and her experienced team make Natick Eye Care a leading provider of vision care.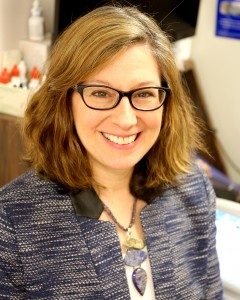 Susan F. Tomasino, O.D
Dr. Tomasino has been practicing optometry for over 20 years. She is a graduate of the University of Massachusetts, Amherst and a graduate of the New England College of Optometry. She was presented with the Gold Key International Honor Society Award for outstanding leadership and service to her profession and university.
She completed a medical optometry residency at the West Roxbury and Brockton Veterans Administration Medical Centers. While at the VA, Dr. Tomasino taught clinical courses and was also published. Fewer than 400 optometrists in the United States complete this elective residency program yearly.
Upon completing her residency, Dr. Tomasino became Chief of Optometry at Medical West in Chicopee and Springfield, MA, where she lived for several years. She later moved to the Mystic, CT area, where she joined a large ophthalmological group and practiced for 5 years.
After getting married and returning to the Boston area, she was on the optometry staff at Beth Israel-Deaconess Medical Center and Southboro Medical Group.
Dr. Tomasino also started a small practice in Worcester, MA. In 2006, she moved the practice to the Natick-Wellesley area, to its present location on Rt. 9 at 192 Worcester Street in Natick, MA.
Dr. Tomasino's dedication to service started with her residency in the Eye-Clinic at the VA Hospital in West Roxbury and continues with professional outreach through volunteer missions to Africa and Mexico. In addition, she continues to contribute her time and experience with local community work through the Lions Club eye screening program, Massachusetts Special Olympics, and as a member of the Wellesley Hills Women's Club volunteer organization.
---
Jennifer (Jenn) Storti
Optical Manager
Jennifer (Jenn) Storti was born and raised in the beautiful Berkshires of Massachusetts. For most of her career, she has been in the eye care industry. From working as a certified ophthalmic technician to managing a busy Ophthalmology practice, her focus has always been on quality eye care. Jenn found her passion working as a certified optician, because she enjoys sharing her knowledge and experience with frame and lens styling and helping individuals select quality products that meet their specific needs, style and budget considerations.
For years, Jenn has worked closely with Dr. Tomasino and the rest of the Natick Eye Care team to deliver great service to individuals and families in Natick and surrounding communities. Jenn takes pride in working with each individual to help them find glasses they need and like to enhance their vision for everyday activities. As a result, she and the team have met many new acquaintances and established friendships with members of the community – a testament to the friendly and helpful atmosphere of Natick Eye Care office.
We welcome you, your family, and friends to our office too!
---