Doctors & Staff
Meet the experienced and friendly doctors and staff who make Natick Eye Care the leading provider of vision care products and services in Natick.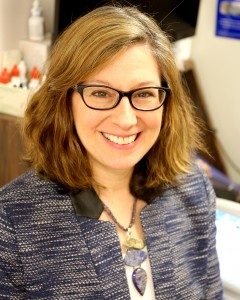 Susan F. Tomasino, O.D
Dr. Tomasino has been practicing optometry for just over 20 years. She is a graduate of the University of Massachusetts, Amherst and a graduate of the New England College of Optometry. She was presented with the Gold Key International Honor Society Award for outstanding leadership and service to her profession and school.
She completed a medical optometry residency at the West Roxbury and Brockton Veterans Administration Medical Centers. While at the VA, Dr. Tomasino taught clinical courses and was also published. Fewer than 400 optometrists in the United States complete this elective residency program yearly.
Upon completing her residency, she became Chief of Optometry at Medical West in Chicopee and Springfield, MA, where she lived for several years. She moved to the Mystic, CT area, where she joined a large ophthalmological group and practiced for 5 years.
After marrying and returning to the Boston area, she was on the optometry staff at Beth Israel-Deaconess Medical Center and Southboro Medical Group.
Dr. Tomasino also started a small practice in Worcester, MA. In 2006 she moved the practice to Natick-Wellesley, to its present location on Rt. 9 near the Natick-Wellesley town line.
Dr. Tomasino's dedication to service started with her residency in the Eye-Clinic at the VA Hospital in West Roxbury, and continues with professional outreach through volunteer missions to Africa and Mexico and assistance with the Massachusetts Special Olympics.
Dr. Tomasino continues with local community work through the Lions Club eye screenings and is an active member of the Wellesley Hills Junior Women's Club volunteer organization.
---
Sherill Valley, Licensed Dispensing Optician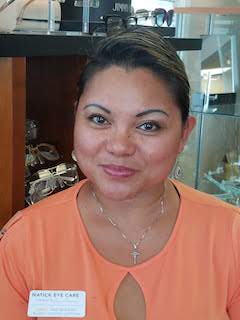 Sherill (rhymes with Chanel!) has been a licensed optician since 1999. She earned a full scholarship to, and subsequently graduated from, Benjamin Franklin Institute of Technology with an Associates in Science and Optometry. She is ABO certified and licensed in the state of Massachusetts.
Sherill has worked with some of the larger chain stores, as well as high-end boutiques, but loves small independent practices the best. An independent practice, such as Natick Eye Care, affords her the best opportunity to meet and spend time with patients. She loves the challenge of finding the exact right lens to meet our patient needs. She has a great eye for fashion, and the technical skill to find the perfect lens.
She is the proud mother of five boys, has energy and personality to spare! Come meet Sherill, and see what she can do to help you have the best vision possible!